As an experienced gardener or even a new plant parent, you might be interested in what kind of tools that you might need for your garden. Some of the most important tools, including the watering can, are essential to making sure that you have the proper materials for your plants.
There are many different kinds of watering cans you can choose from, but it's important that you just find one that you like. While yes, a glass might be fine, w a true watering can will make watering your plants so much easier!
There are tons of different types of watering cans out there. There's metal, plastic, long spout, and even indoor misters.
These are all incredible options. Some are great for specific plants while others are great universal watering cans. Here's what you can use these kinds of watering cans for, and why you should buy them.
Types of Watering Cans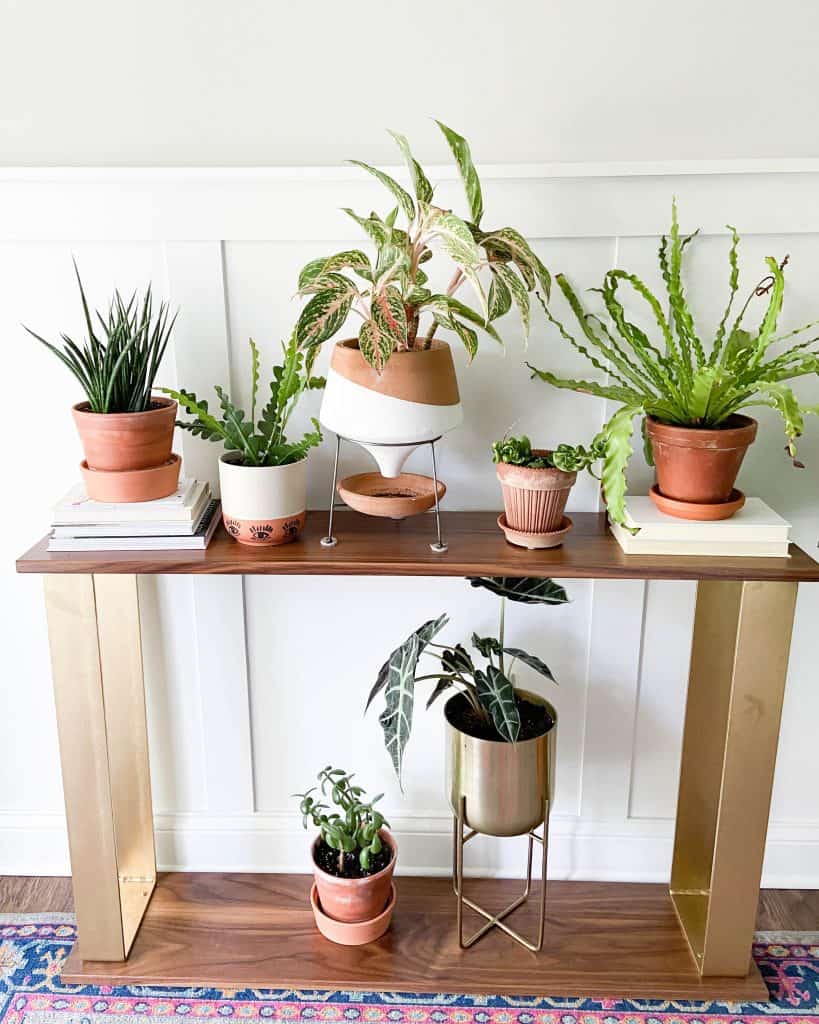 Plastic
Known for being the less expensive option and being lightweight, they are a little less durable than metal. However, these are popular among gardeners and others alike.
Plastics can contaminate your water though, causing a little bit of problems for your plants. This is something to be considered about if you're watering plants that are edible.
Metal
Metal watering cans are also incredibly important to consider because of the fact that they can last longer and resist rust. Being metal they might be heavier but can also be more durable to carry.
Many people end up buying one metal watering can and have it for many years, using it over dozens and dozens of plants.
Long Spout
For those who would like to have more control over where they're watering, long spout watering cans are perfect. Sometimes, a hose can be way too strong and cause damage to the plants that you're watering.
That's why for indoor plants or even outdoor plants, you should consider using a long spout watering can. This can help you to pour directly onto the base of the plant but avoid getting water outside of the pot. This is great for avoiding messes as well as making sure the job gets done. This is key for plants like African Violets!
Indoor Misters
For those who have house plants indoors, an indoor mister can be a great way to keep your plants healthy without over watering them. Misting is a great way in general to keep these plants healthy.
Some of the best ways to water is to make sure that you're keeping aware of how the color and texture of your plant's leaves are, in order to make sure that the watering is appropriately done. Misting can be done daily or on a regular basis when needed.
Why Do I Need a Watering Can?
Not all plants are going to respond very well to using a hose. Many plants also have a delicate period. If you're the kind of individual who's growing a bunch of vegetables in your garden, using a hose to try and water these plants would actually damage them.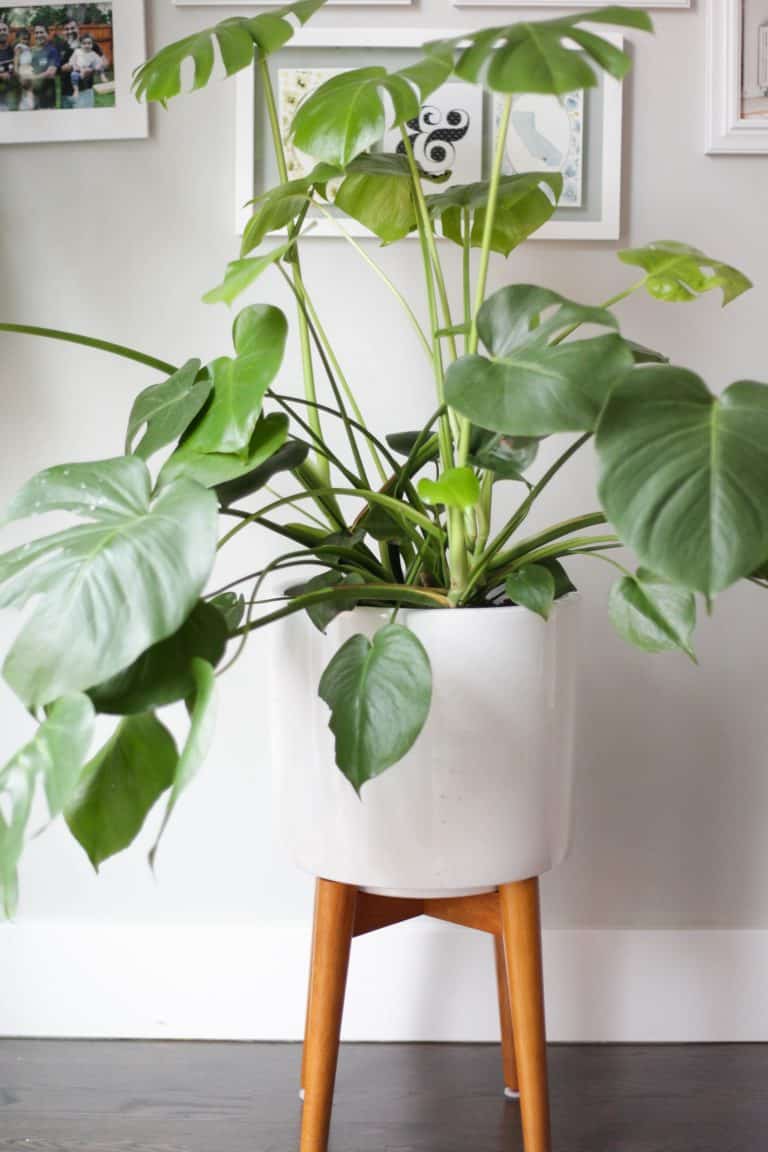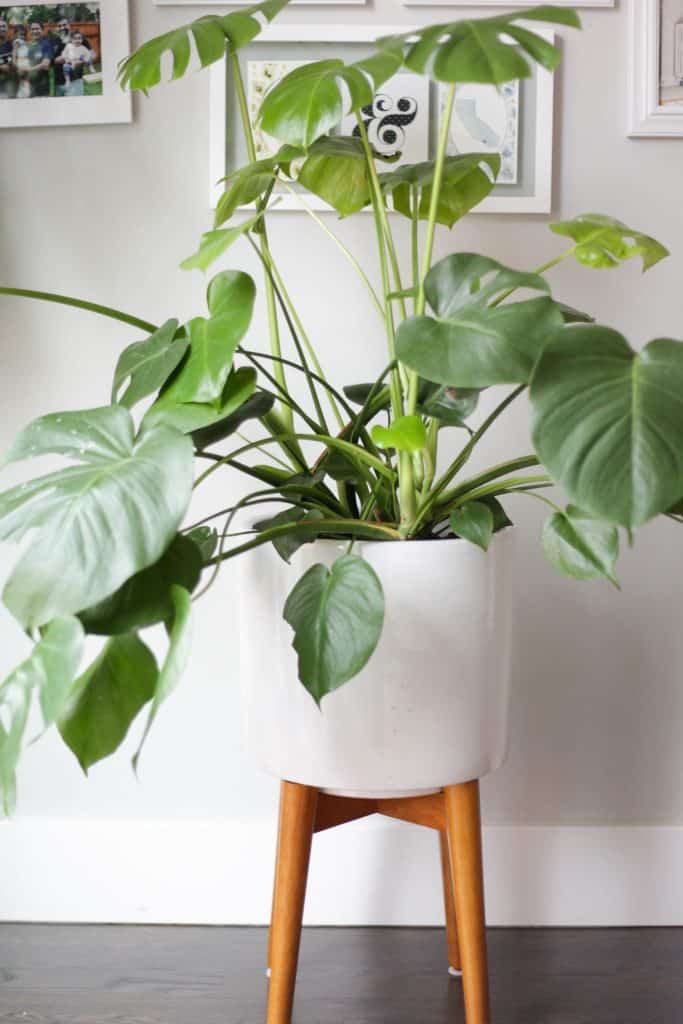 Your more durable plants, like trees, are fine to water with a hose because they are more durable. However, there are many reasons why you should use a watering can, other than the fact that you can control the pressure.
Using a hose instead of a watering can might result in overwatering, which can easily damage and kill your plant. If you're unable to mitigate this problem, you will likely keep killing plants until you find a watering can.
That's why many people turn to a watering can! It's a lot simpler, and involves much less concern for overwatering and too much pressure on your soil.
Additionally, it's also a good idea to get a watering can because this is what the experts use. Many people might scoff and think that spending money on the watering can is silly. I mean, for real, you have a hose!
Yet, if you want to be an expert in gardening, then you have to learn from the experts! Get a watering can! This will help both you and your plants out!
With this in mind, here are some of the best watering cans for both your indoor plants and your garden. I'm also going to share some of the benefits that they have and where to find them.
6 Best Watering Cans for Your Plants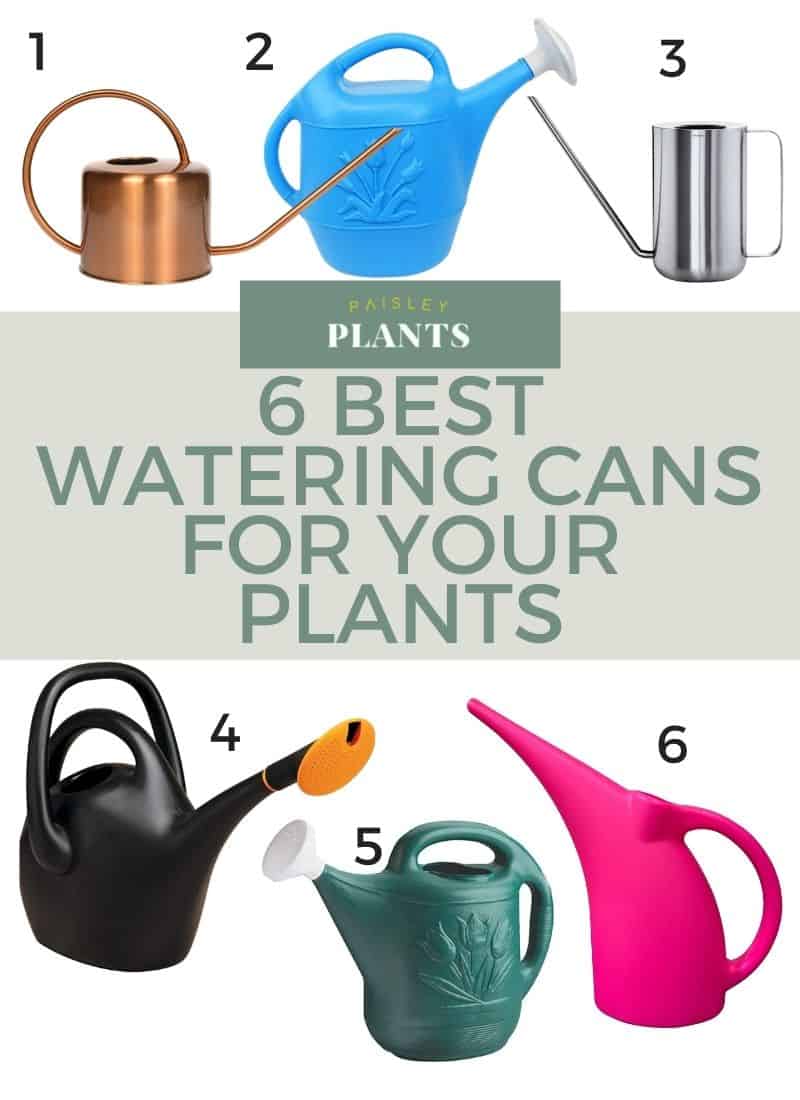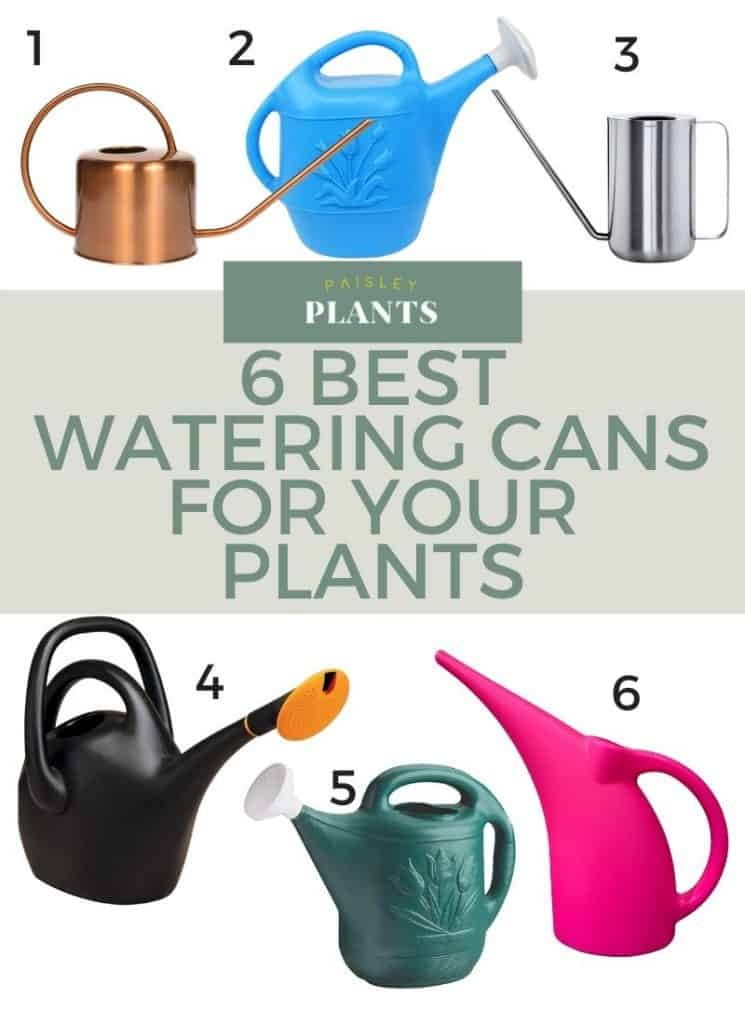 Paisley Plants is a participant in the Amazon Services LLC Associates Program, an affiliate advertising program. This post may include affiliate links which means I may earn a small commission if you shop using the links below at no additional cost to you.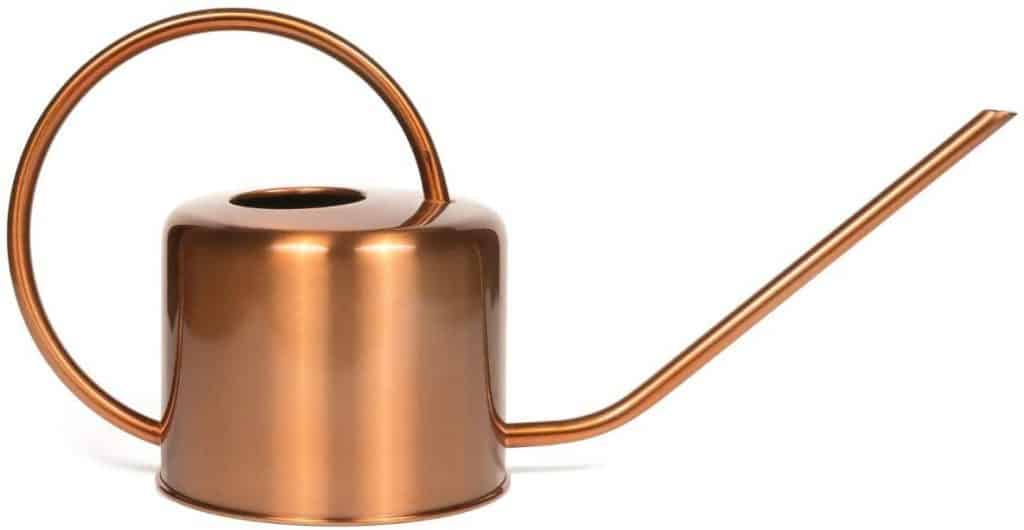 This beautiful copper colored watering can hold up to 40 ounces of water and has a long spout. This is a great way for you to water both your outdoor and indoor plants, and to control where the water is going. The price is only $25 and has over 1,900 ratings four-star or higher ratings.
For those who are looking for a simple watering spout with a little bit of design flare, this is a great choice. It's a little artistic, but still gets the job done without making too much of a mess or being too complicated. It also is one of the more inexpensive options out there!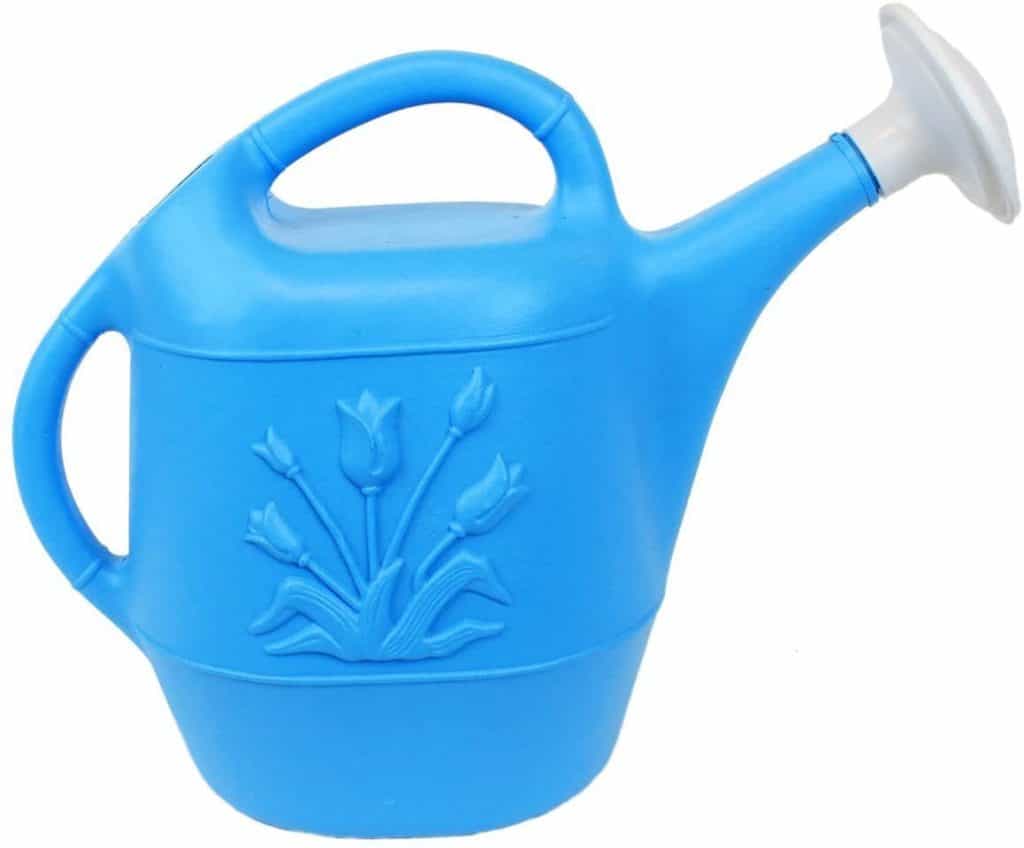 Known as being one of the more classic design options, this watering has a beautiful tulip design on the outside and is made with plastic. It can hold up to 2 gallons of water, making it a little bit heavier than most plastic watering cans that people can find online.
Priced at only $18.99, this watering can come in four different colors and is a simple choice for people who are looking for something that gets the job done.
If you're looking for a more durable model however, it would be best to keep your search going. This is still a wonderful choice for those looking for a reliable and sturdy watering can.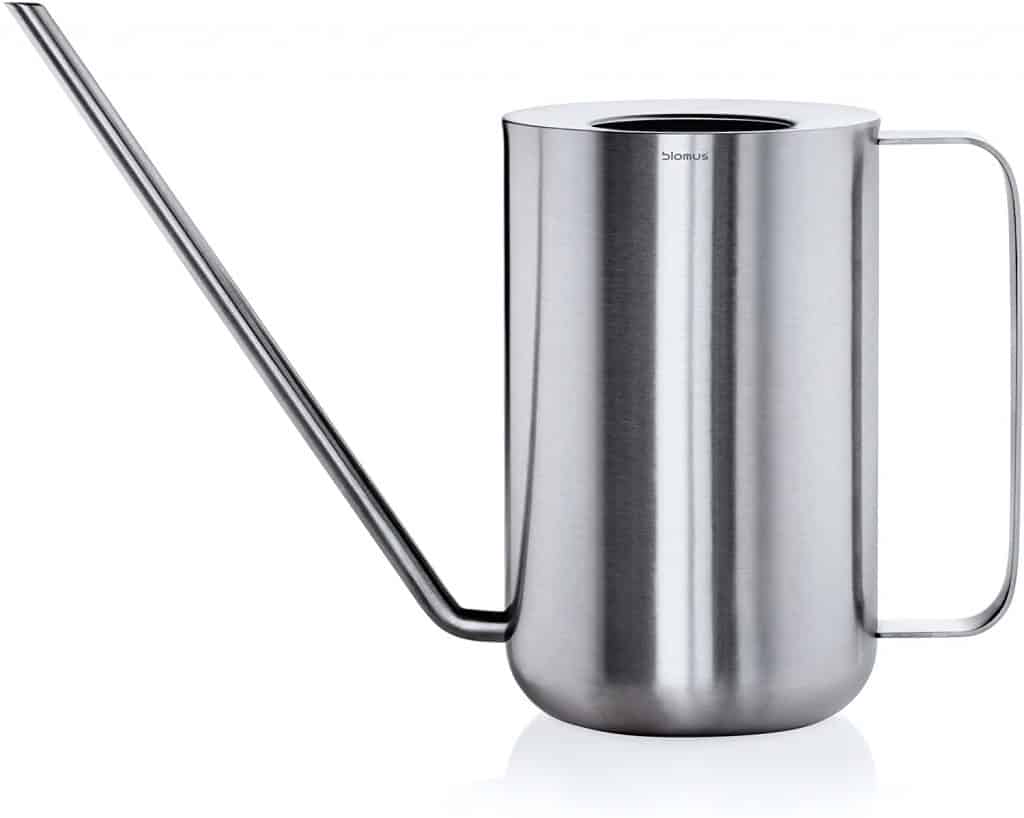 If you're looking for a metal watering can with a bit of design to it, the Blomus is for you! This is a little bit more of a pricier option but is a great choice fora sturdy and reliable watering can.
This watering can hold up to 1.5 liters. It also comes in a very simple and sleek silver design and is definitely more durable than other watering cans out there.
For those who are looking for a cheaper option, this is definitely not the one for them. However, for those who want a little bit of that sophistication and the luxurious quality that comes with the price, this might be on the list for them.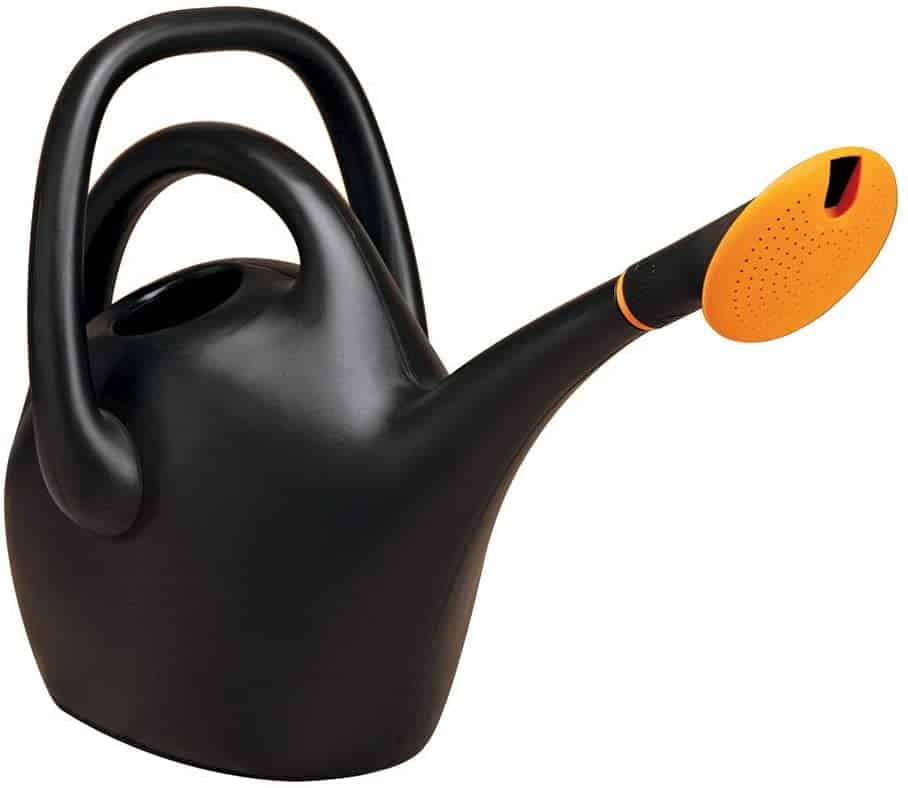 If you're looking for a simple but more sophisticated plastic design for your watering can, this easy pour water in can is a great choice. It comes in black and has two different handles for you to choose from. Whether you have to lean the watering can forward or from a different angle, this allows you that flexibility.
Additionally, you also have the choice to give it a light rain shower when you water the plant or even give it a spout of water, depending on what you're watering. This is super handy, and is very inexpensive.
Anyone who is looking for flexibility and choices for their watering check out this watering can!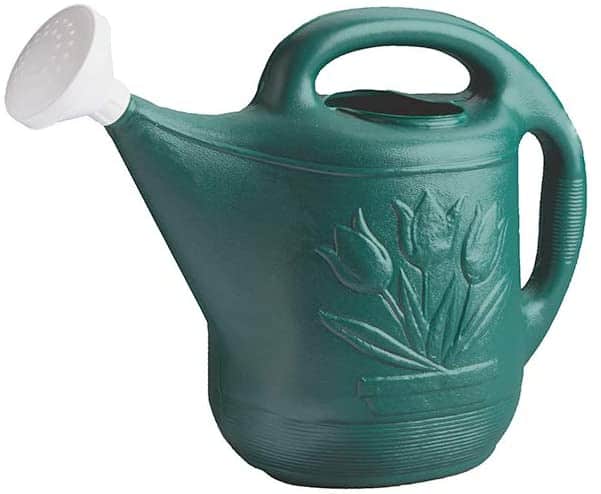 Similar to the union watering can, this is another great choice and is actually number one bestseller in garden tool sets on Amazon. This comes in more than a handful of colors and has another simple but beautiful flower design on the outside.
One of the only differences that people might notice the fact that this is a slightly different size and comes with a more simplistic design to the structure of the watering can. It has a white spout that delivers rain-like watering for your plants.
It even comes at a reasonable price, and the sellers promise that this product will last you several years of use! I actually have this exact watering can that was my grandma's! It's lasted more than a handful of years!
As one of the most inexpensive on this list, this is also one of the most vivid designs that I've found for watering cans. This is great for indoor or even outdoor plants but is most especially designed for small indoor plants that are hard to reach.
With seven different colors to choose from, this half gallon watering can is BPA free and has a 4.5 rating on the Amazon website. It is high quality and has multiple applications because of the design.
It can be used in your house, your office, or even outside or out of flower shop. It's also incredibly environmentally friendly, making this a great choice for anybody who's looking to make a reliable and ecofriendly purchase.
Conclusion
There are so many choices to choose from when it comes to finding the perfect watering can, but when it comes down to it, it's all about what you're most comfortable with. Any of these options are great options for you!