Orchids have a way of captivating people with their beautiful flowers and their fragrance. They can be an incredible addition to your home or even your garden, and there are over 200 different types of orchids!
Orchid plants can be a tough plant to grow. I have yet to try one but my father-in-law has more than we can count in his home! He is one of the best orchid growers I know.
There are many factors to having success with your orchid – having the right potting mix , giving it the right amount of water (and definitely not too much water) and of course, having the right pot for your orchid can make a big impact on how well one grows in your care. Today let's talk about your orchid pot!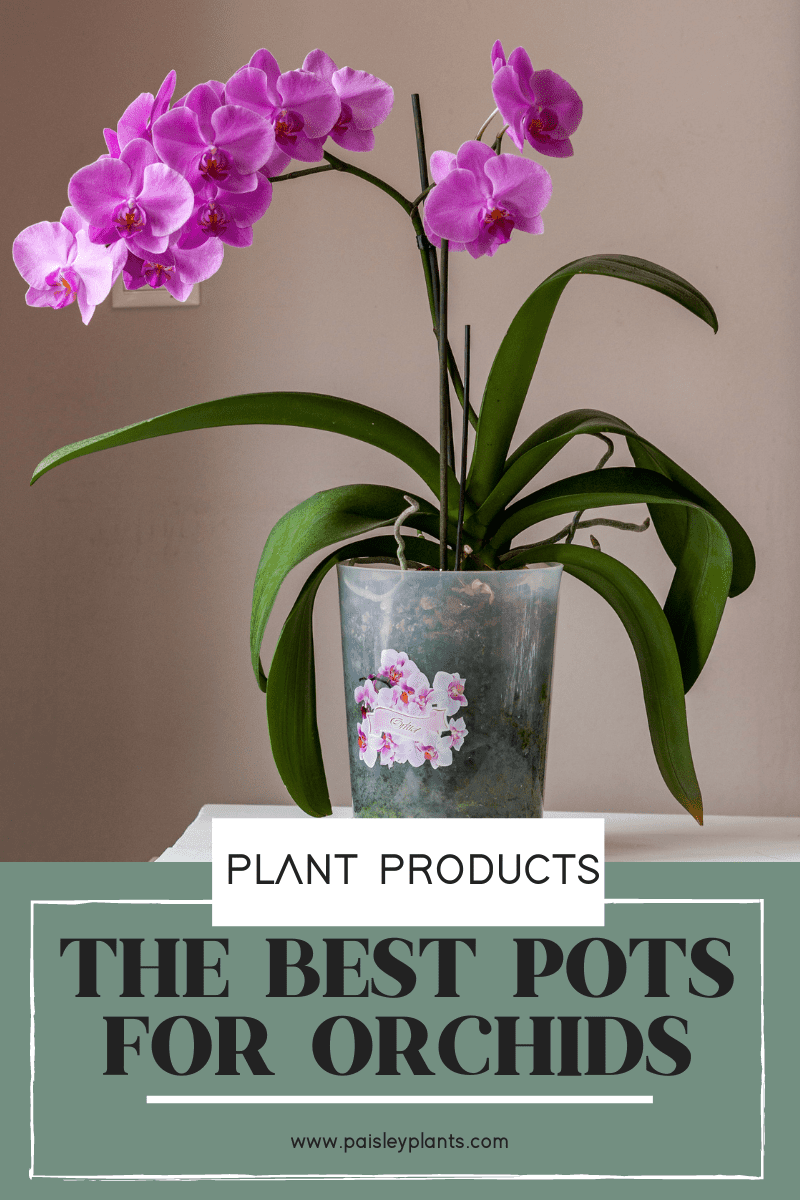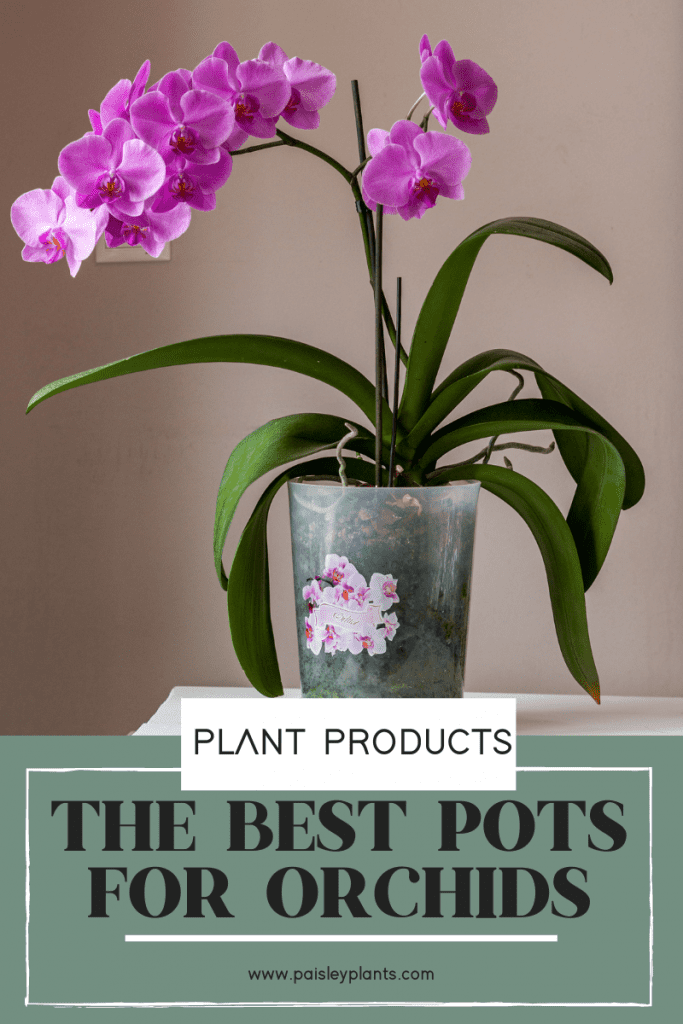 Paisley Plants is a participant in the Amazon Services LLC Associates Program, an affiliate advertising program. This post may include affiliate links which means I may earn a small commission if you shop using the links below at no additional cost to you.
If you're itching to bring any type of orchid into your home, you may be wondering how best to pot them.There are several different kinds of pots to choose from. There are some critical features to consider to make sure that you find the perfect pot for your orchid flowers.
Types of Pots
There are many kinds of pots to choose from, and not all of them are created the same. The best pots for orchids generally are either plastic, net pots, terracotta pots, or even baskets. It depends on your preference, but there are several benefits to each pot for your orchid.
Here are the most popular types of pots and how they can help your orchid survive, thrive, and grow into a beautiful flower for you to enjoy!
1. Terracotta Pots
Terra cotta pots are clay pots that comes in several forms. They are a standard pot with great drainage. You can get any shape, size, or style that you desire. They're super inexpensive pots that are incredibly versatile.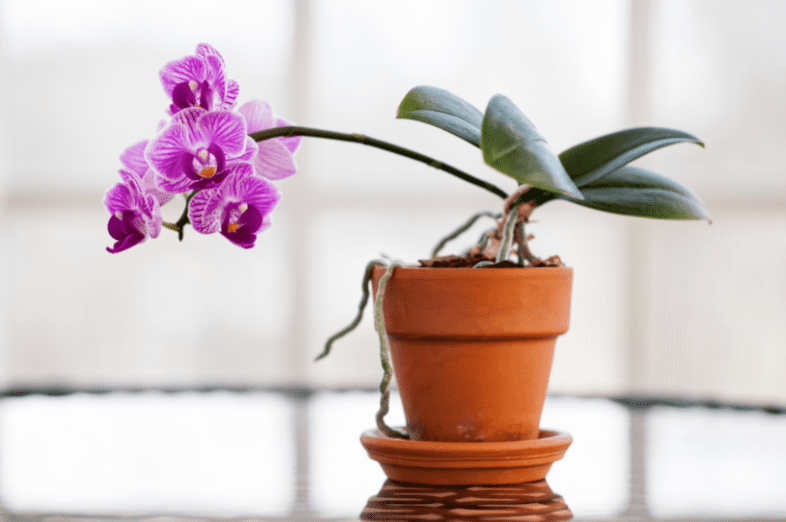 Clay pots are very porous and they come with drainage holes on the bottom of the pot. This is great for ensuring that when you water your plant the water doesn't stay inside the pot causing root rot.
However, because clay pots have such good drainage, you may need to water your plant a bit more. I have tons of my plants in terracotta pots and love them!
2. Net Pots
Nets pots can be great for allowing for more drainage and providing air circulation. This can help create healthier plants by providing more support to the orchid's roots. With these pots, the plants generally grow around and through the mesh, making more extensive roots.
Often they are made with materials such as polypropylene and others and can be heavy duty. They can be great for your orchids and allow them to remain healthy over the long term! Their unique design gives them an advantage over other types of pots.
3. Clear Pots
Since orchids can be trickier than other plants to keep, clear pots can help you see if the plant is dry and needs more water. The clear container will allow you to see if it is dried out or other concerns, such as overwatered orchid roots.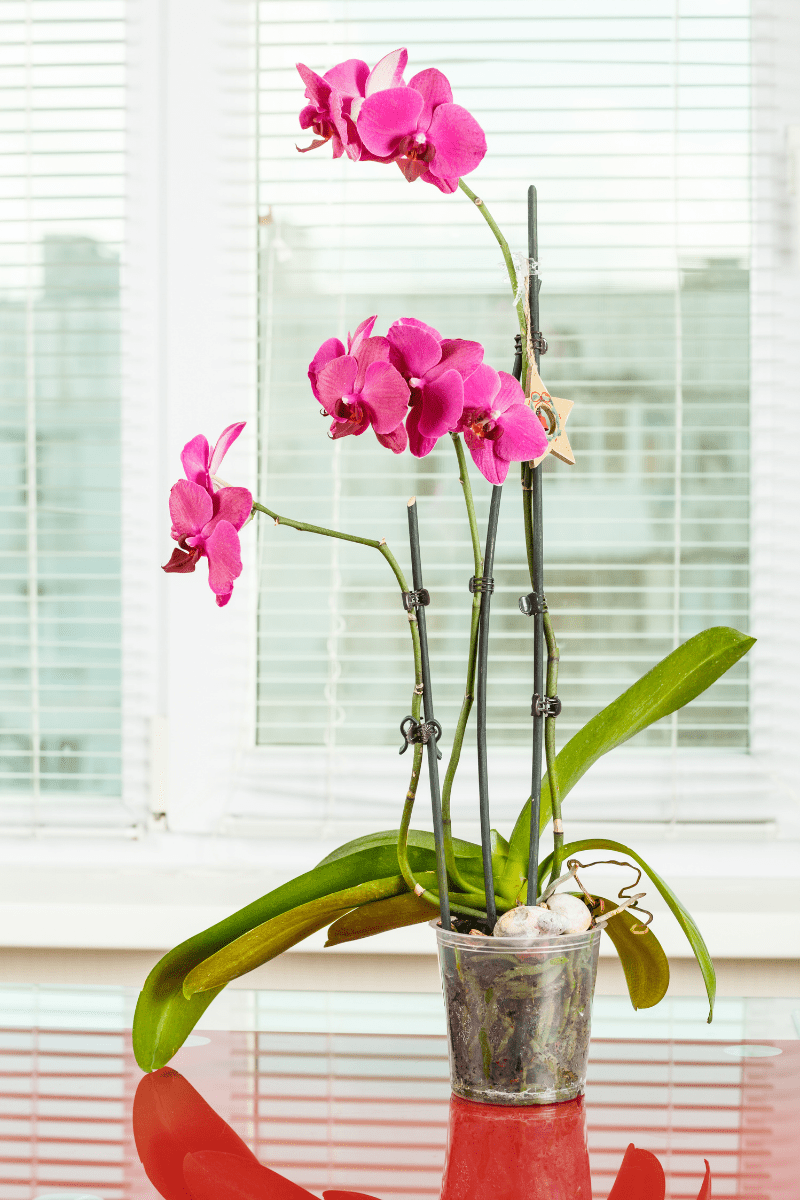 No matter what clear pot you choose, it is essential to make sure that your pot has holes to allow the orchid to breathe. They need this more than other flowers do!
4. Baskets
If you are hoping to create an arrangement, then a basket is a great alternative and will allow you to pick and plant your orchid alongside other species. You can leave your orchids in the pot they came in, but add them to the tray and then fill the gaps in where you need them!
5. Bi-level Drainage Pots
If you're looking for more drainage capabilities, then this is the pot for you. This type of pot usually has a domed bottom, and this can help with collecting water. There are also plenty of holes to help the roots of the plant breath.
What Are the Best Pots for Orchids?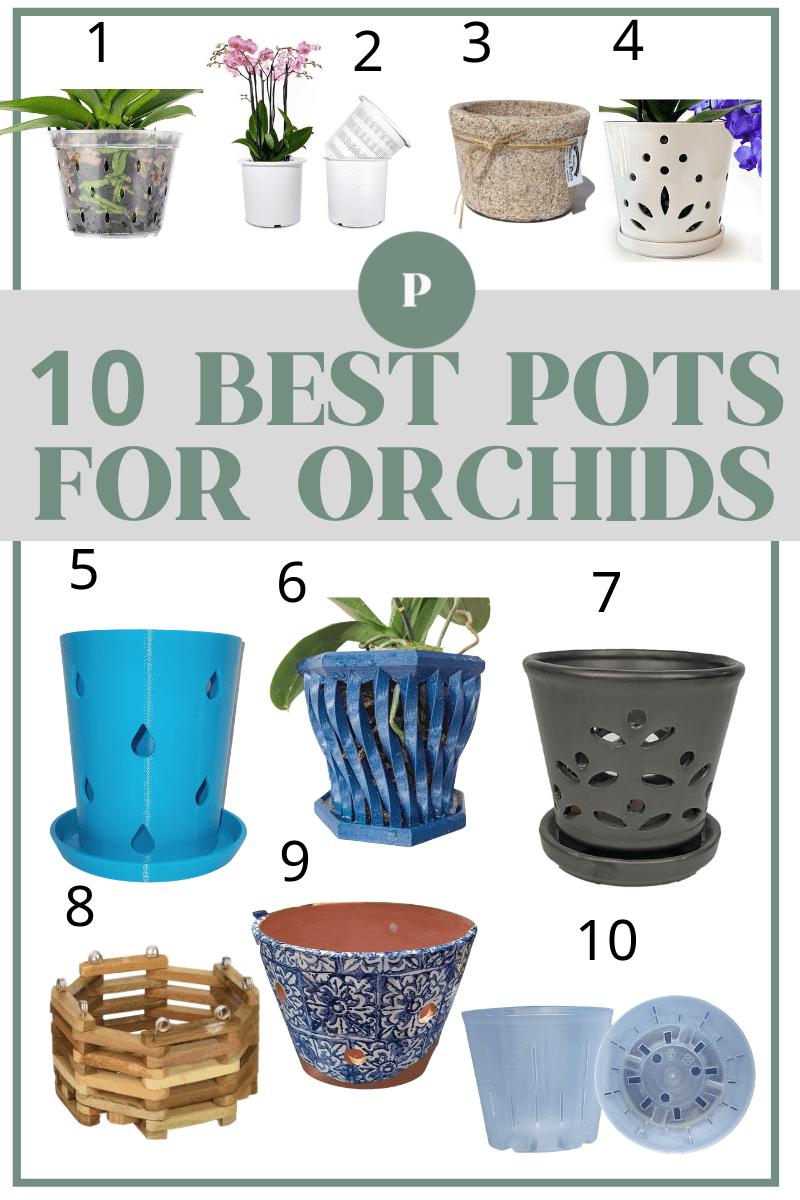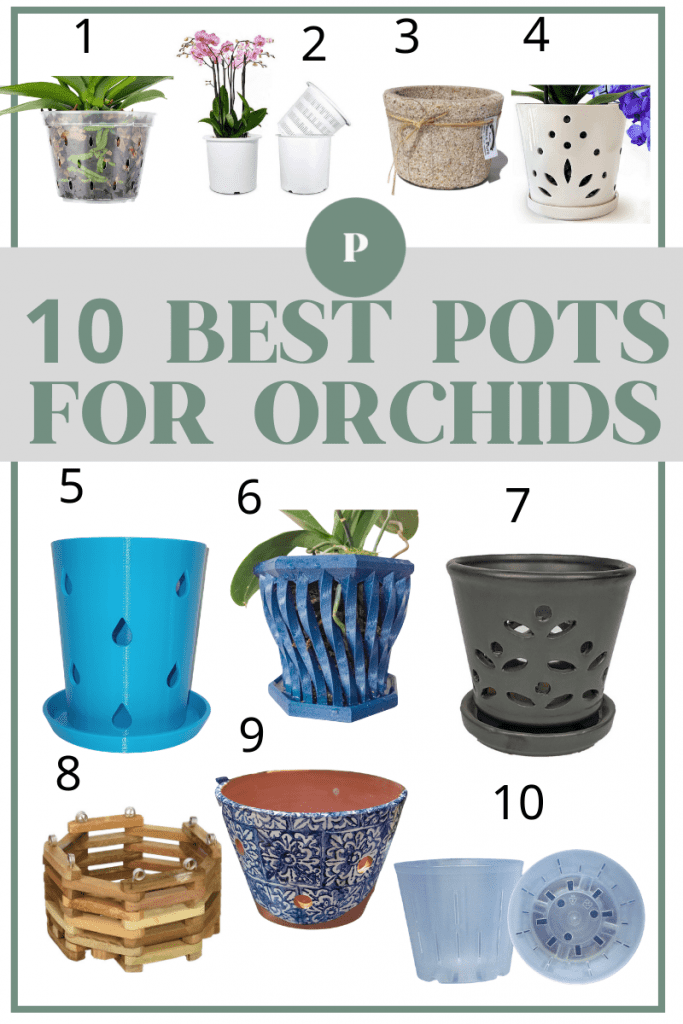 All of these types of pots are great for your orchid, but you should make sure to buy the best and highest quality. This will ensure not only will your plant live a long time, but you will not have to worry about repotting your plant or other concerns.
Here are the top ten pots for orchids and where you can find them!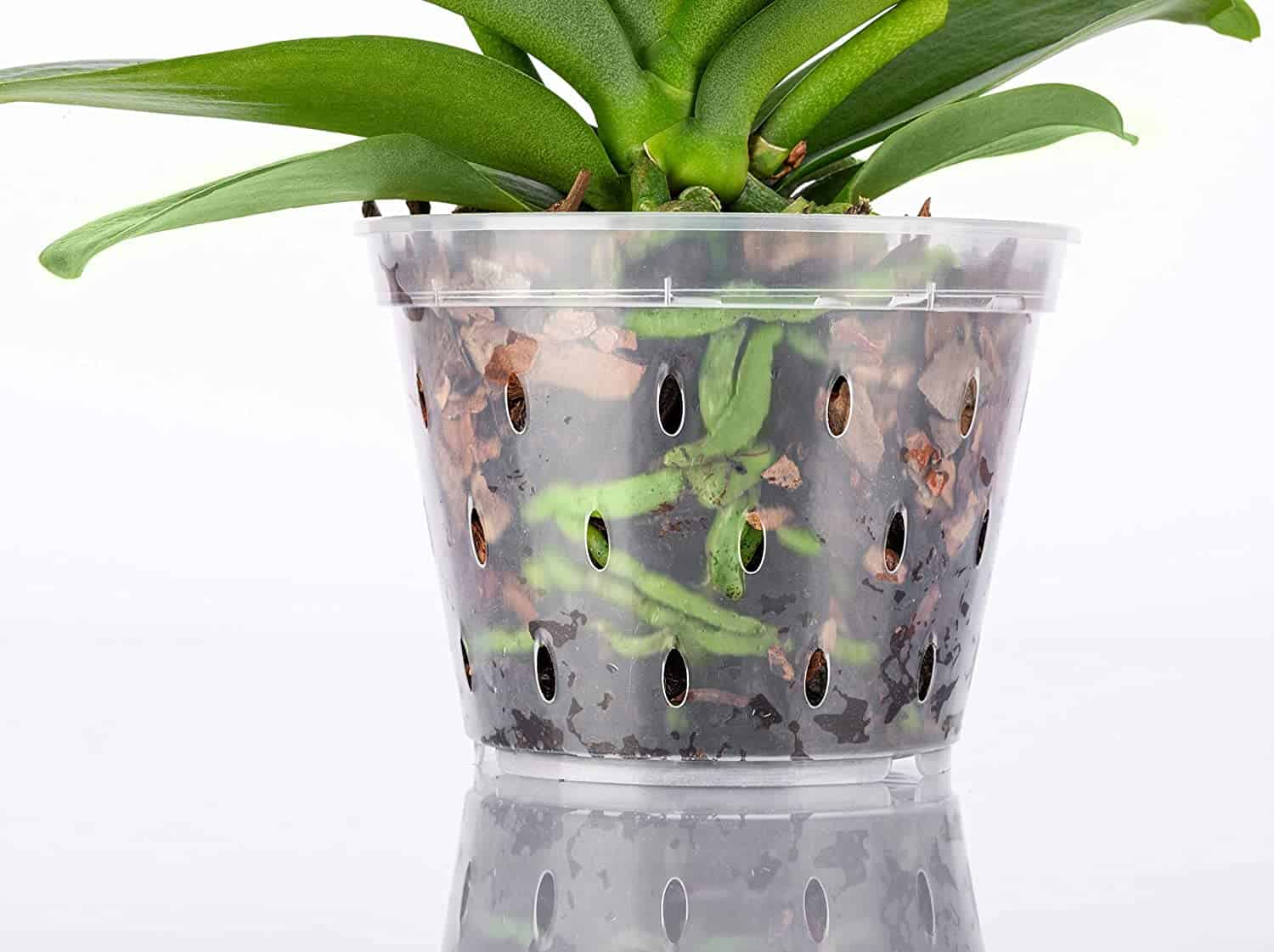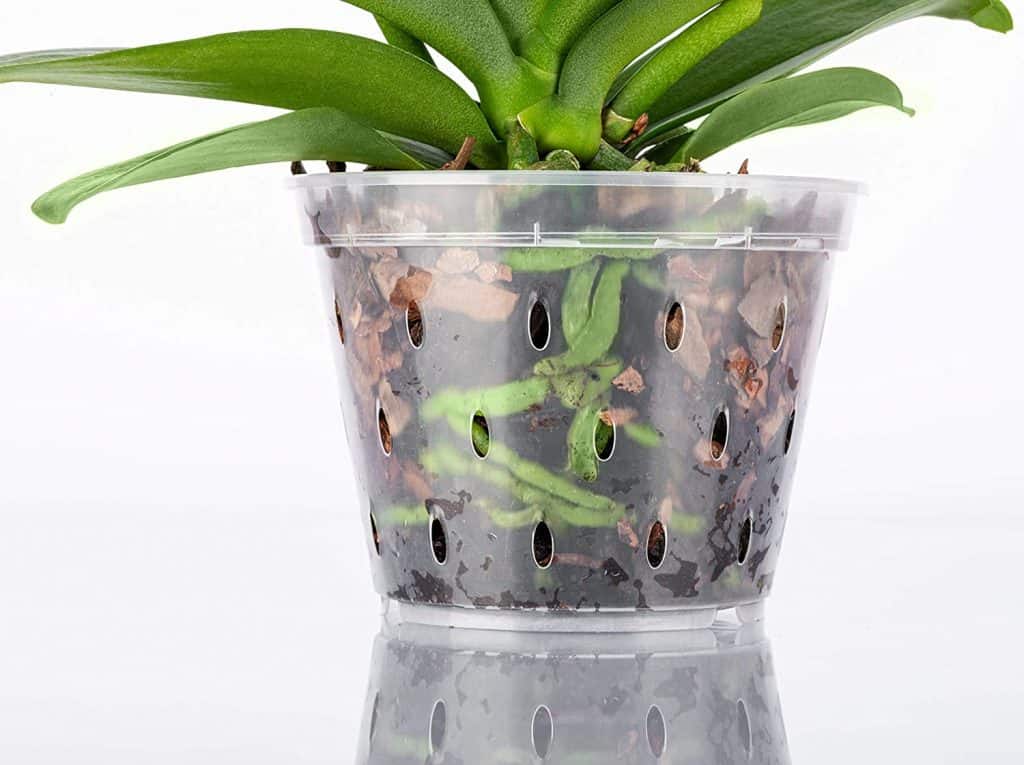 As a basic plot for your orchid, this clear pot has all you need: the correct sizing, proper aeration, and the availability to drain. It is a popular choice on Amazon and has over 1,000 ratings with an average of 4.5 stars!
The plastic is of premium quality, which will ensure that you can use this for years for all sorts of orchids that you have within your home.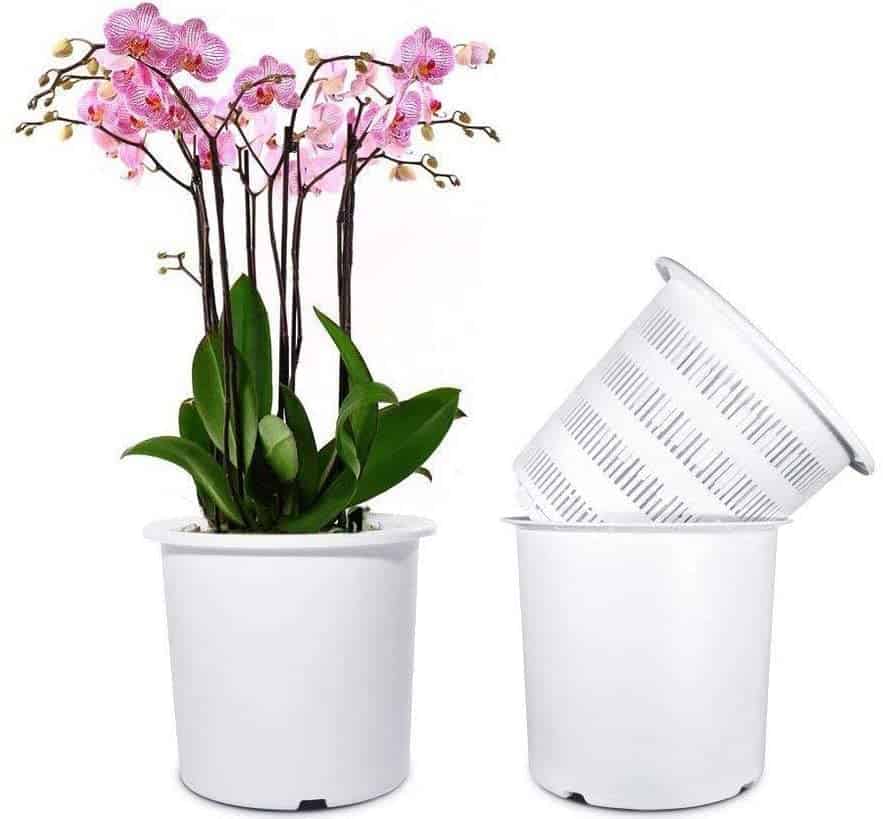 Like the previous one, this comes with a substantial slotted pot in white, but it also includes another outer pot for your plants. This can help with ensuring that your plant gets adequate water and nutrients.
Made from high-quality PP plastic, this pot set helps you control the way your roots grow, and there are two layers. With this pot, you have more protection for your orchid and healthier roots over time.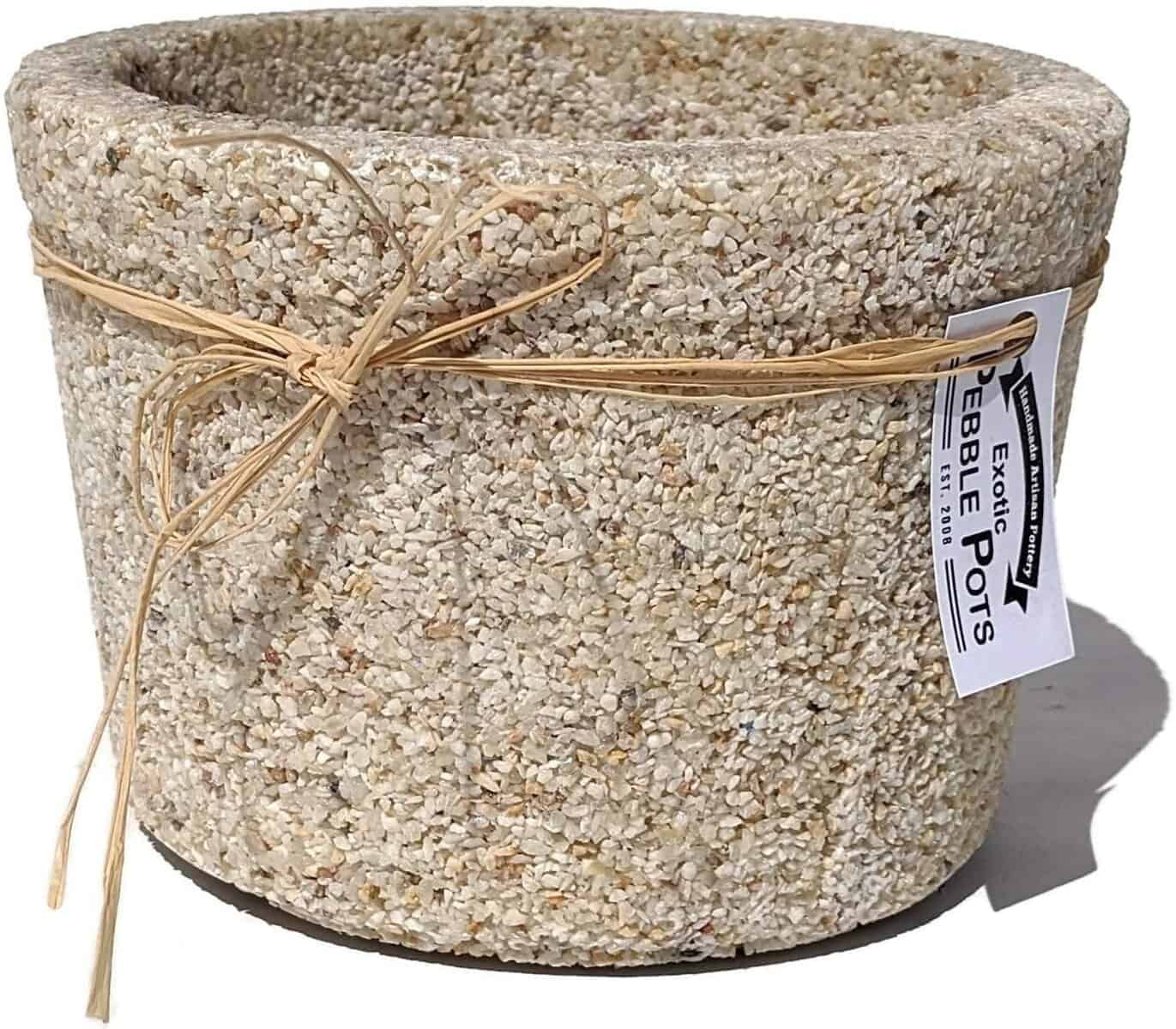 Unlike the last two, this one is not made with plastic but with pebbles. It is a unique design that is handmade and porous. The rocks allow your plant to breathe and aggregate as it grows within the pot.
Because it is porous, this pot will allow your plant to breathe and take in water naturally. This is a great and stylish pot for your orchid and one that is healthier than some of the plastic models currently available online.
These ceramic pots are an excellent alternative to the usual plastic pot for those who want a more artistic pot for their orchid. This is a decorative pot with a drainage saucer and holes to allow the plant to breathe and excess water to drain.
The structure of this pot is ceramic, which means it is extreme, and it stops from overwatering due to the holes accessible on the outside of the pot. It is sophisticated and fun but also great for your plant and its health.
For those who want more color in their homes, this pot is a perfect choice! This pot is fun and comes in multiple colors: blue, light blue, green, and coral. It has the same hole structure as some pots, allowing for no overwatering and the roots to grow naturally.
Additionally, the seller also offers multiple sizes – both bigger pots and smaller pots! No matter the size of your orchid, you can choose the right size and have the proper support for your beautiful orchid.
Twisted into a unique design, this orchid pot will certainly stand apart from others within your collection. This pot comes in a few different colors and is a bestseller on Etsy. The structure of the pot allows for more air flow and breathability and also less chance of overwatering, which is great for a beginner!
The pot is also made with eco-friendly material derived from corn, meaning that it is more environmentally friendly. Surprisingly it is one of the sturdier pots available on this list and can last many years!
Handmade and inspired by Hawaiian design, this ceramic pot is glazed and one of the best-selling items for orchid pots on Etsy. It comes in multiple colors and is about half a foot tall. Best of all, it even comes with a saucer to trap the water that collects after you water your plant.
The holes on the sides allow for better breathing for plants, and the patterns are unique compared to other pots available. This is the medium size, but there are different sizes available for both smaller orchids and larger ones!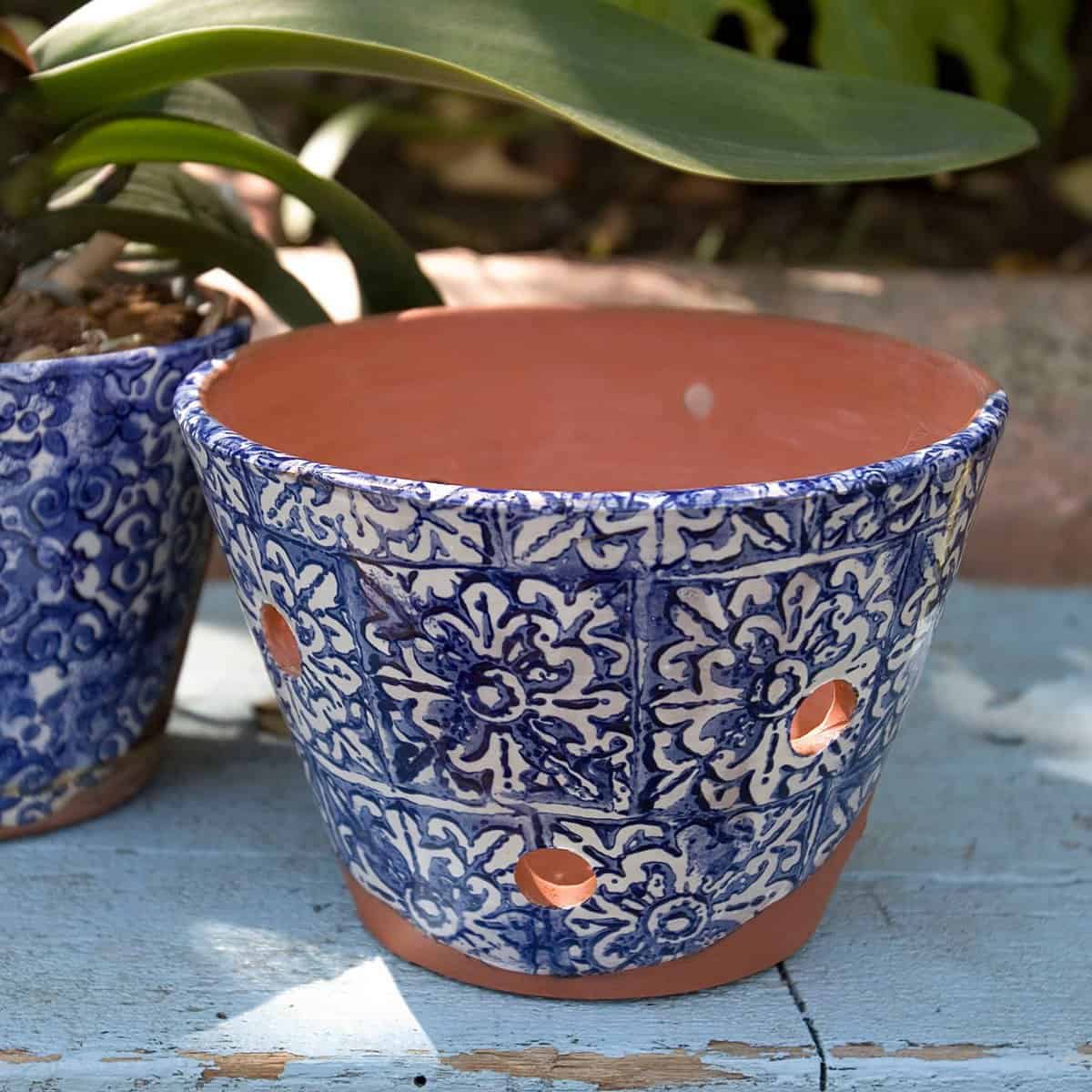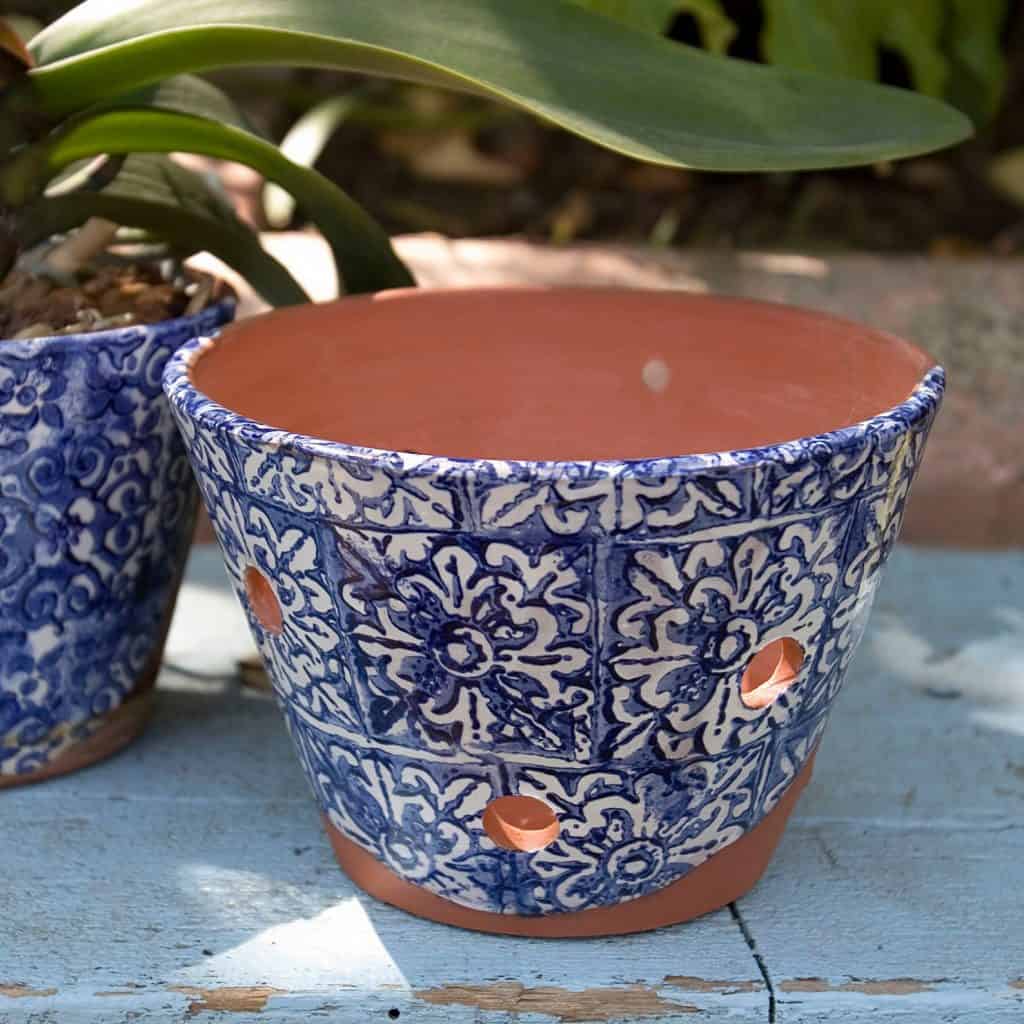 This unique pot has a mix of cobalt blue tile design with classic terracotta peeking out. It's handmade and has a small hole just under the rim of the pot making it easy to hang on your wall or outside on a fence.
This pot is specifically made for orchid growers with it's generous size holes on the side of the pot to allow water to quickly drain out.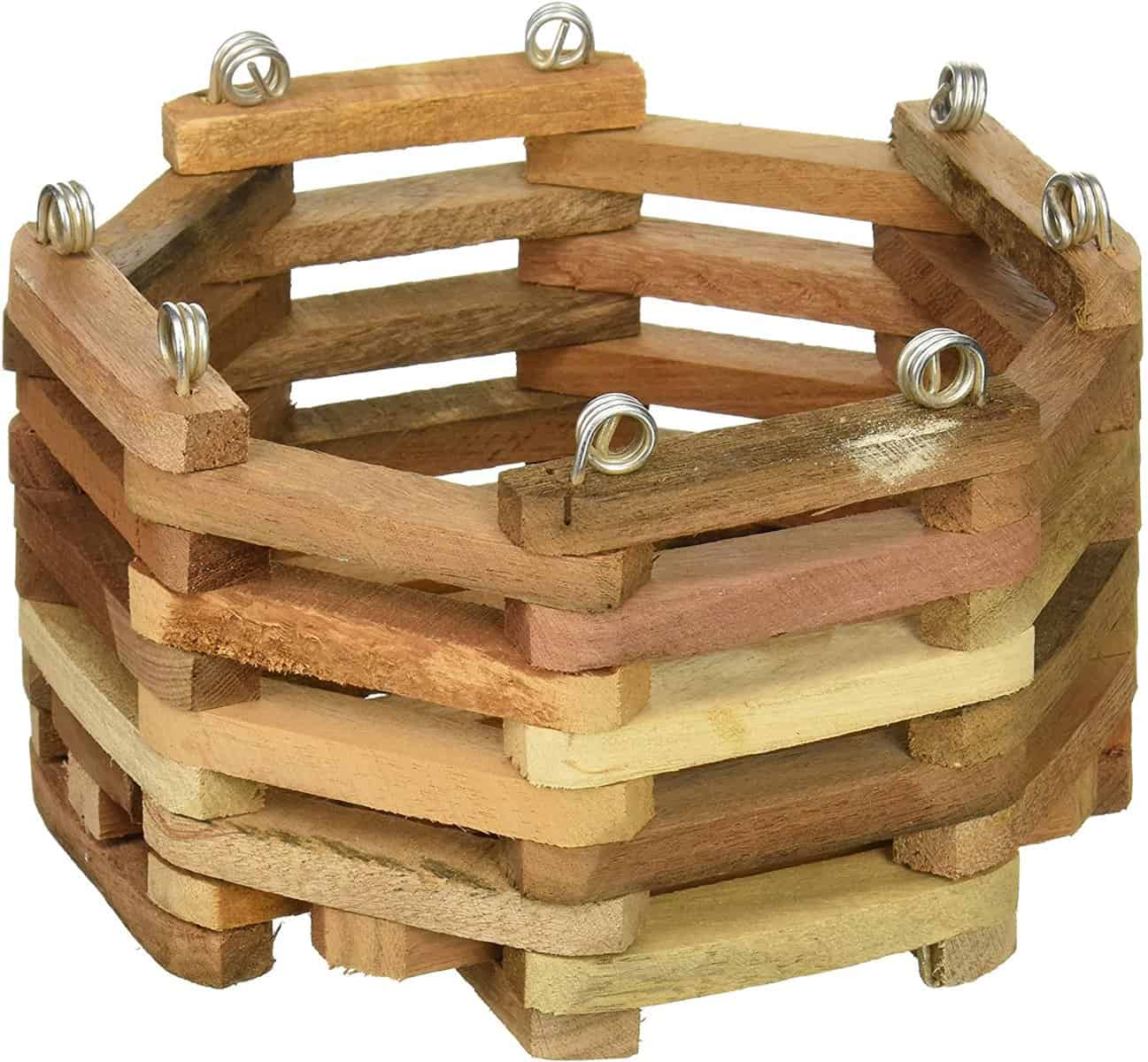 Unlike the others, this one is made out of cedar and comes in an octagon shape. This unique pot is eight inches in diameter and has been handcrafted by the sellers. There's no assembly required, and the design allows for better health for your orchid.
There is excellent breathability and drainage for your pot with the holes in between the log pieces. This is all-natural and one of the most eco-friendly designs you can find for your orchid pot needs.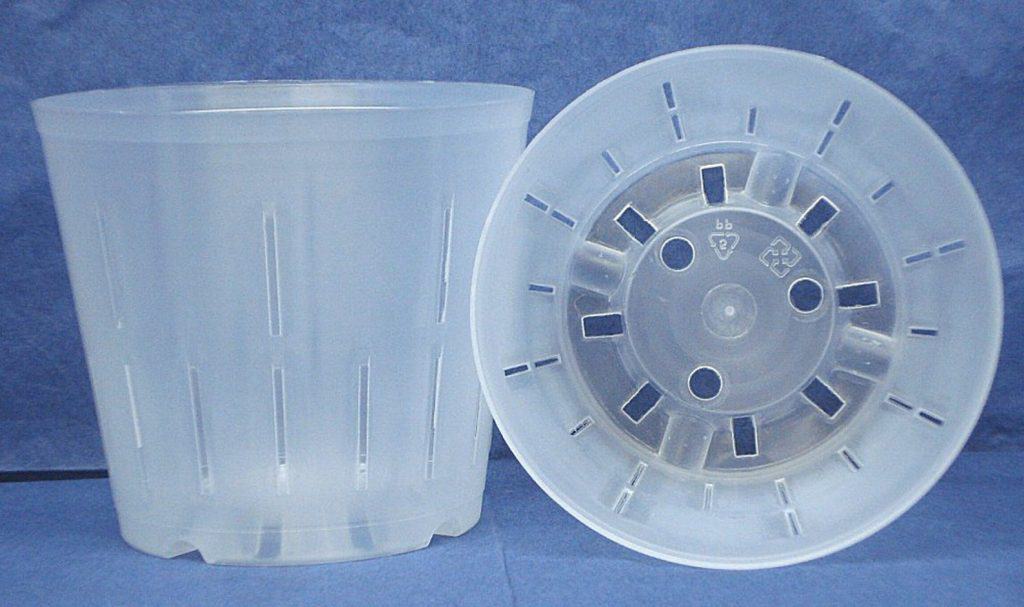 If you're looking for a great deal, this Etsy set of two clear plastic pots can be a great starter for your orchids. They have holes in the bottom and the slits along the sides of the pot, allowing for great breathing of the roots and no chance of overwatering your plant.
The pots are five inches in diameter, which is relatively small, but they can be incredibly durable and last long. If you are just starting out with orchids, this is an excellent addition to your garden and will ensure your flowers' longevity.
If you find yourself in need of repotting your orchid, be sure to read to my step by step tutorial on how to repot orchids!
No matter what you choose for your orchid, there are so many great choices on this list! Some of the best orchid pots are the simplest, and they can do wonders for your plant and its health.
The most important thing is that you find something that fits your style and makes taking care of your plant even easier.
Now that we know the best pots for orchids, check out this post for the best pots for African Violets and how to care for orchids!
Need a new orchid in your life? Here's the best places to shop for orchids!
Looking for more orchid fun? Head on over to these posts!